Adam Sorab, FSTA
Head of Technical Research at CQS
London, UK


Profile
Adam Sorab is Head of Technical Research at CQS, a $14 billion hedge fund management company based in London.
Prior to joining CQS in 2004, Adam was Director of Absolute Return Strategies at Deutsche Asset Management in London. Adam joined DeAM from Credit Suisse First Boston, where he was a founding member and Director of the firm's hedge fund operation, the Leveraged Funds Group. Before this, he worked at Schroders in London, as a currency and interest rates derivatives trader.
Adam holds a BSc (Hons) in Economics from the London School of Economics (1984). He was President of the International Federation of Technical Analysts (IFTA) from 2009 to 2012 and is a Fellow and former Chairman of the UK's Society of Technical Analysts (STA). Adam is also an Independent Member of the Investment Committee of the BUPA Pension Fund.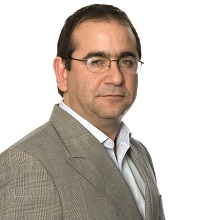 Presentation Abstract
Technical Research at CQS
Panel Discussion
Technical Research at World-Leading Investment Managers: How do world-leading investment management organizations use Technical Analysis to maximize investment performance - Advice for investment performance enhancement.