Ivano Menabue
Educator, Technical Analyst
Milano, Italy


Profile
Ivano Menabue specializes in technical and electronic education. Since 1982, he has been active in financial markets as a freelancer, and later worked with institutional investors.
As a true expert of classic and algorithmic technical analysis, he succeeded in matching his know-how with the power of artificial intelligence.
His workstation adopts innovative and fairly outside-the-box tools that allow a constant monitoring of the selling and buying pressure in a given market, providing early signals on the possible evolution of the prices. The technique has shown to be reliable in different markets and different timeframes, from day trading to asset allocation. Mr. Menabue states, "The main structural features influencing future dynamics are, existing bullish and bearish powers."
As a businessman, his most recent project consists of an analysis-dedicated platform, which is based on his own contents and is aimed at creating operative partnerships and/or services targeted to professional needs.
Mr. Menabue has been the head of Associazione Istituzionale Italiana dell Analisi Tecnica e degli Analisti Tecnici (Italian Institutional Federation of Technical Analysis and Technical Analysts ? SIAT) since 2007 and a member since 1989.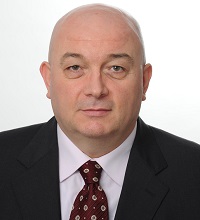 Presentation Abstract
Strenght & pressure of buyers and sellers, Artificial Intelligence and Behavioural Finance behind Market Big Data, in support of trading activity and Portfolio Management
After a synthetic description of the technological architecture, of the postulates and the logic employed together with the pros and cons of the methodology, we shall make some practical examples, starting from the presentation given at Ifta San Francisco 2013 to the present days.
On top of that, in honour of the guest country, we shall focus on the Japanese blue chips adopting a synthetic Long & Short Stock Picking list.
Finally, we shall propose a ultra-conservative strategy for investing on stock markets, as an alternative to unappealing low yield bond markets