Robin Griffiths
Chief Technical Strategist, ECU Group
London, UK
Profile
Robin Griffiths is one of the world's most experienced and highly regarded analysts. He is currently Chief Technical Strategist at ECU Group, where he has been a member of the Global Macro Team for over twenty years. Robin commenced his career in the financial markets with Phillips & Drew in 1966, having taken a degree in Economics at Nottingham University.
He went on to be a partner at WI Carr, the first British stock broker to have offices in Hong Kong and Tokyo. Part of this firm was acquired by Grieveson Grant, with whom Robin enjoyed a stay in Japan. In 1986 Robin joined James Capel, which was already owned by HSBC. He stayed there until normal retirement age, and during that period travelled all over the world to meet their extended client base. For the last six years of that employment Robin was resident in New York. Having left HSBC Investment Bank in 2002, Robin then joined Rathbones as Head of Global Investment Strategy, where he stayed until 2008. Thereafter, he became the Technical Strategist for Cazenove Capital, where he managed the Worldwide Absolute Return hedge fund.
Robin has been a regular on CNN, CNBC, Reuters and Bloomberg TV. He is a committee member and former chairman of the International Federation of Technical Analysts, former chairman, now fellow, of the British Society of Technical Analysts and honorary member of the Swiss Association of Market Technicians (SAMT). Robin is also author of several notable books, including Mapping the Markets and Future Storm, and a contributor to Technical Analysis & Behavioural Finance in Fund Management: Discussions with Investment Managers and Analysts and Breakthroughs in Technical Analysis: New Thinking from the World's Top Minds.
A keen sailor, Robin has crossed the Atlantic eight times, setting a new British record in 1984 with Sir Robin Knox-Johnston.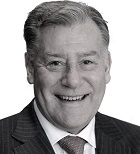 Most recently, he completed a boyhood dream of sailing his own yacht around the world. His circumnavigation took just under two years and ended in Trinidad in late May 2013.
Presentation Abstract
Mapping the Markets
Robin will deliver a global overview of investment markets using his signature "Roadmap" cycle analysis, guided by proprietary models of all asset classes and investment styles. Currently, the free market mechanism is broken. Central Banks have destroyed bonds as an instrument of prudent investment. But the new normal is likely to be dominated by Asia; first China, and then India.
Many have forgotten that it is people that drive economies, and that the demographic "spending wave" in most western markets peaked in 2007, and has since been massively negative. The ingredients for a stock market crash, and a disinflationary period of great severity are in plain sight. Long-term cycles predict that from late this year onwards, through 2016, until late 2017, the risk is all to the downside. There is some good news down the road, but it does not kick in until the year 2020 at the earliest. For the last few years, the US has been dominated by QE. This force is now acting in Europe and Japan as Abenomics.