David Furcajg, CFTe, MFTA
President and Co-founder, Highwave360
Paris, France


Profile
David Furcajg is the president and Co-Founder of HighWave360, a company that provides Software, Trading Strategies and Coaching for individuals and institutions. HighWave360 also develops proprietary tools and algorithms to enhance trading strategies.
David Furcajg began his financial career as a bond broker in 1996 before becoming a bond strategist until 2004. Seeing that fundamental approach might not the best way to make money, he then focused on technical and behavioral aspects of financial markets.
As a former fundamental strategist and a technical analyst, he created his own method that picks a bit from classical / macro relations and technical analysis to determine trading opportunities and timing.
After a successful experience in London as a technical strategist with Louis Capital Markets, he resigned in 2007 and co-founded HighWave360 in 2011 to manage his own business. The company employs 5 people and raised funds in 2013 and 2014 for a 2 millions euros valuation.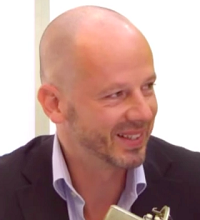 David Furcajg has now close to 20 years of experience in financial markets and he regularly provides lectures and coaching through different countries. He is spending his time to manage his own capital and company.
Panel Discussion
Technical Analysis Education at Universities around the World: How is Technical analysis being taught at increasing numbers of universities around the world?